We talked to Katarzyna Marcok about the secrets of choosing a perfect stone for a demanding customer and about the everlasting beauty of diamond jewelry classics.
Since diamonds are a girl's best friends, how do you find working in such company?
Getting to spend time with pure beauty – and that's what diamonds are – must be a true pleasure. Regardless of gender, diamonds have the same effect on everyone. I often hear that I have the most wonderful job, a job that every woman dreams of. I guess a lot of women and men would like to swap with me. However, my job is not at all easy, although it's certainly pleasant. The selection of a diamond itself, its color and shape, as well as designing unique jewelry is a multi-stage process. It takes hours of discussions and searching for the optimum solution to bring out the right brilliance from the diamond and meet our customers' expectations.
How often do you think you'd want to wear the diamond offered to the customer
When I see a smile on the face of a customer who is collecting their piece of jewelry, I feel much better than if I were wearing it on my finger. Such moments prove that you can see the natural beauty that is often captured in a small stone and thus meet the expectations of the future owner.
Katarzyna Marcok designer of diamond jewelry
Does fashion also change as dynamically in the case of diamonds as in other luxury goods?

Fashion in the industry changes as quickly as in other segments. However, one should remember that in terms of diamond settings, classic remains timeless. Whether gold is gently wrapped around a diamond or eccentrically entwines it with various colors, the workmanship itself is important. Manual diamond setting guarantees not only better light effects but also perfection, which is far removed from mass jewelry. The form, but also the quality of the setting, is something on which I place great importance, knowing what kind of jewelry and craftsmanship I would expect myself. Even the color of the setting (the color of gold) is influenced by fashion. For some time now, we've been experiencing a revival of pink gold jewelry, but the color is slightly different than it was several years ago. A more pure and delicate touch of pink highlights the beauty of the alloy and often allows the color of the embedded diamonds, even the colorless ones, to be highlighted. It's an absolute must have for the upcoming years.
Is there an evergreen concept in the case of diamond jewelry such as the "little black dress" in fashion?

The everlasting symbol of classic diamond jewelry is a ring with a one-carat diamond gripped by the characteristic four claws and set high in the head, of course in white gold or platinum. When talking about the classics, we should also mention earrings. Individually set diamonds, on a stud – definitely a threaded one – are timeless. They always look beautiful, regardless of their weight. They're popular with men and women alike. Another element of classic jewelry is a pendant with a pear-shaped diamond, which has been highly valued by customers for many, many years.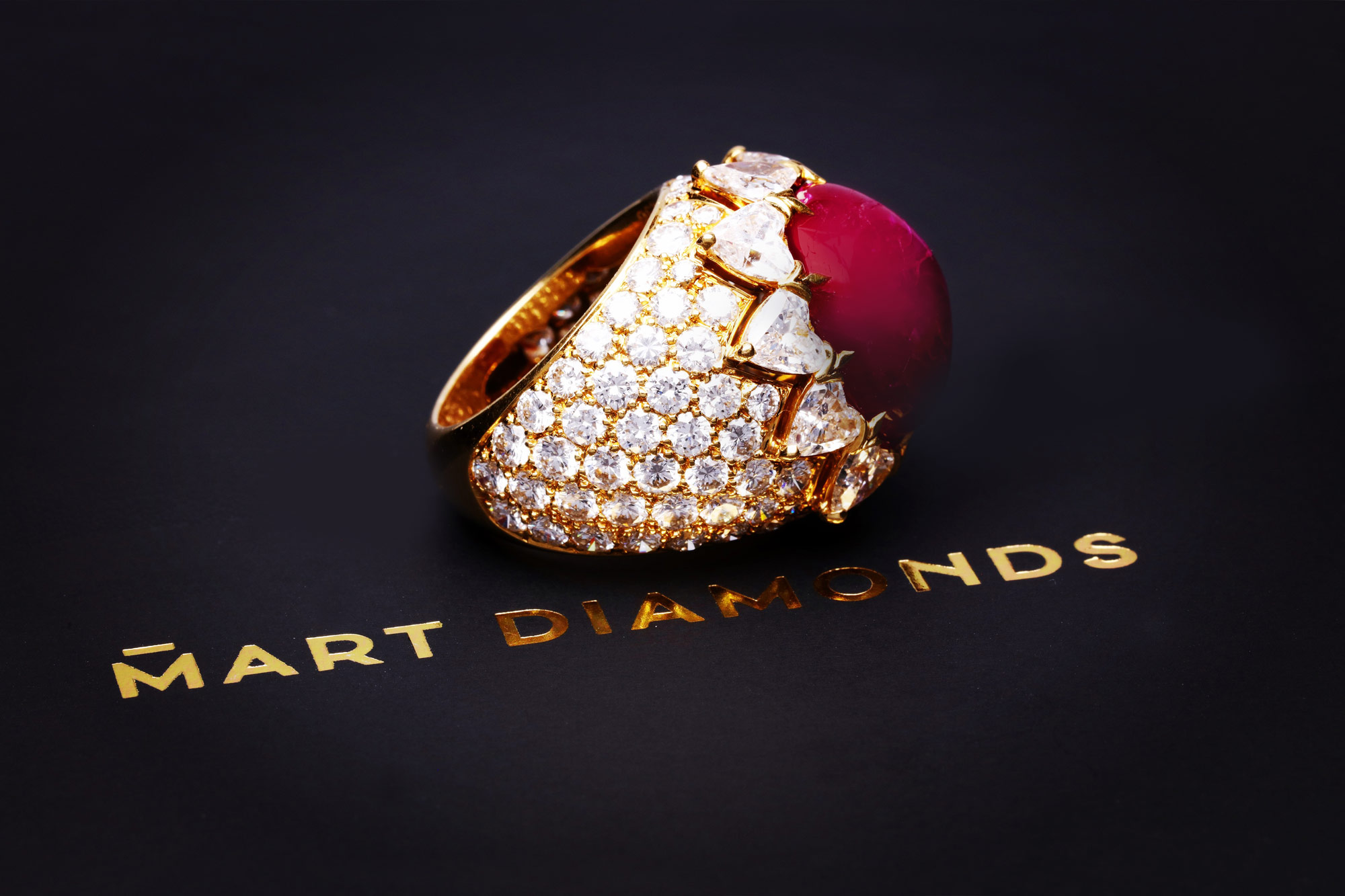 Ring with ruby and diamonds by MART DIAMONDS
Does jewelry with a centuries-long
or decades-long history always delight or does it fade away only to come back in full splendor after some time?

Classic jewelry, even centuries old, will always impress. I still remember a bracelet from the end of the 19th century, which dazzled with the quality of diamonds set in it. Despite having over a hundred years of history, the bracelet is worn by our customer with very sophisticated styling and all fits together perfectly. Old brooches, seemingly quite forgotten, are always very popular at auctions. I myself have some really old rings that have a wonderful history, and I'm very happy to have them.
Let's imagine a customer coming to MART DIAMONDS with a desire to give a loved one an exceptional diamond in a unique setting - how is such a project carried out?
Conversation. We always start with a conversation. We listen and analyze the customer's expectations. Regardless of the size or value of the diamond, we need to know as much as possible about the customer's intentions.  Next, we choose a diamond or even several precious stones and shape everything into one. The choice of material, planning and arrangement, often even an anatomical sketch of the jewelry can take a while. You should consider how the diamond should be set in order to bring out as much vibrancy as possible from it. An important element of working on jewelry is the experience of a goldsmith. Only expertise and high level of skills will allow one to create a timeless piece. That is why we place such a great emphasis on cooperation with the best. There are projects that take months to complete, and there are ones that are ready within a few days. It all depends on the future owner's imagination, the complexity of the design and shape of the stone.
Is knowing whether the piece of jewelry is to be given to a wife or daughter sufficient?
Sometimes we just get general information, like for example: "I need a ring". And then the fun begins. The first question is asked – Is it for a man or a woman? Often after a few minutes of conversation the customer realizes how important their choice is. So many things in our lives are left to chance – let's not do it with jewelry, let's not do it with diamonds! Each diamond is different, so its setting may symbolize its purpose in a completely different way. We will buy a different ring for a fiancée and a different one for a wedding anniversary. Different jewelry will be suitable for a daughter and completely different for parents.
What is the most important at the beginning of design?
When creating jewelry as a gift, we must know the recipient's preferences. What kind of jewelry they wear, what color of gold they prefer, whether they like classics or whether we are looking for modern solutions. This is not about creating something that we like, it is about creating something that will delight the customer. That's why we ask if it's to be gentle or rather decadent and glamorous. We ask how a stone is to be set – high or low, even though for men it often doesn't matter – women know exactly what they expect. Jeweler is supposed to delight, highlight the beauty of the diamonds set in it, but most of all it is supposed to give pleasure from wearing it and to be so perfectly designed that one would want to wear it all the time.
Diamond rings from the MART DIAMONDS collection
Have you ever been surprised by a customer's idea, or do they look for rather classic forms of jewelry?

There have been several such projects, but most often it is us who surprise customers when they collect their jewels. We often hear that a given diamond looks much bigger, looks somehow more beautiful and that it has a spectacular shine. We love making our customers happy, but we love surprising them even more. Even if we were to make the most classic pattern, I'm sure we would still do it in the most unique way possible to make it the way it was meant to be but completely different from all the others…
What is the difference between making, designing and giving jewelry made of natural diamonds and synthetic diamonds?
Giving someone a diamond symbolizes something permanent, pure and true. So how can you give someone a substitute for uniqueness, a fake bred in a laboratory and expect the synthetic substitute to fulfil the same purpose as a natural diamond? We appreciate the personality of our customers, their awareness of the surrounding reality, their desire to have something unusual, and therefore we don't offer them synthetic or enhanced stones. A natural diamond symbolizes uncommonness and exquisiteness. Created by nature, it waited for millions of years to come to us. How could it possibly be compared and put on par with a caricatural product created in a lab? Confucius once said that "better a diamond with a flaw than a pebble without". Today, the sentence should be changed into "better a small natural diamond than a giant from a lab".