The color diamondS is the most expensive stone sold during the autumn jewelry auction in Geneva. It was purchased for an amount equivalent to PLN 46 million.
The most prestigious jewelry auctions in Europe are held twice a year, in May and November, in Geneva. They are organized by competing auction houses Sotheby's and Christie's. The highest prices are usually reached in the fall, when the season in the European diamond market comes to an end.
Christie`s Magnificent Jewels
During the Magnificent Jewels auction, held under the aegis of Christie's, 12 items were sold for over CHF one million. The total profit from the auction was CHF 55,263,250 (almost a quarter of a billion PLN). The best result (CHF 11,625,000) was reached by a diamond weighing 7.03 ct in a deep blue color, which is called Fancy Deep Blue. 
"Actually, it's navy blue. But in the business diamonds are never described as navy blue. This term is associated with sapphires" – explains Marcin Marcok, expert on investing in diamonds, in an interview with the Polish Press Agency (PAP). 
The stone is set in a subtle ring from the Moussaieff jewelry company, and the setting is almost invisible. The item was purchased by a private buyer. For several minutes two players were bidding against each other.  
Sotheby`s Magnificent Jewels and Noble Jewels
As far as Sotheby's is concerned, the "Magnificent Jewels and Noble Jewels" auction ended with a result of CHF 55,382,275, which is slightly more than its competitor. "However, given that Sotheby's offered 453 items and Christie's 257, we will find that Christie's has once again won," – says Marcok, who regularly takes part in Geneva's auctions. 
Four items exceeded the price of CHF one million at Sotheby's auction. A bracelet with sapphire in the form of a cabochon (the simplest cut), weighing 47.07 ct, surrounded by pear-shaped diamonds weighing 9.27 ct and 8.60 ct, proved to be the Queen of the auction. The bracelet is a product of the Cartier jewelry house from 1927. It was bought for CHF 6,072,900 (almost PLN 24 million). 
"The leaders of the fall auctions were Cartier and Bulgari" – comments the expert.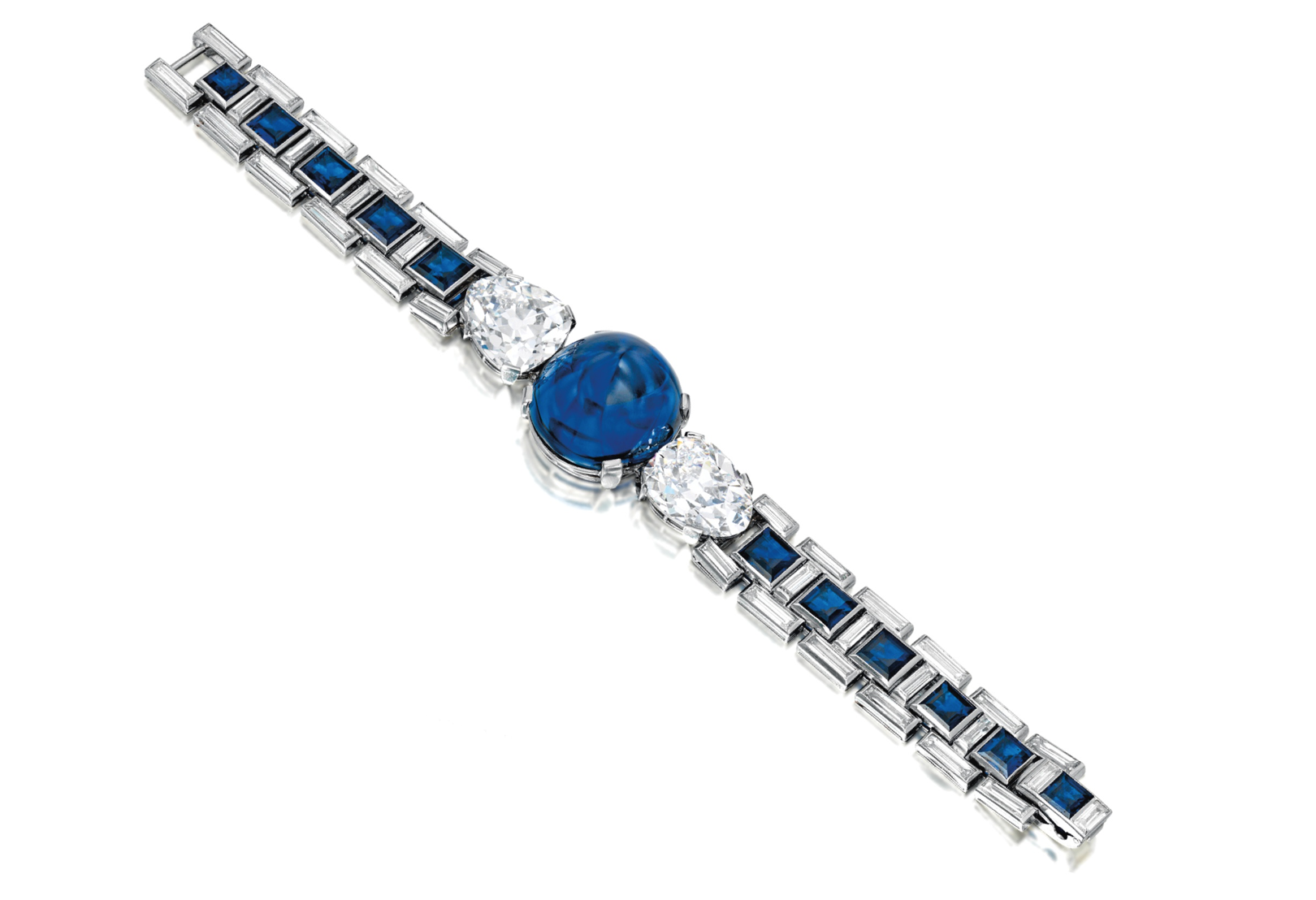 What determines the price of diamonds reached at the auctions? As far as clear stones are concerned, they are valued according to the 4Cs – from the first letters of the parameters that are taken into account. These are the carat, color, clarity and cut. While the first three features depend on nature, the cut is the work of a professional. Colored diamonds are assessed in a similar way, but in this case color is of higher importance – its saturation, dispersion or some subtlety.
In the case of colorless diamonds, the market is recovering from the crisis – their price has been falling since 2011. "The industry has suffered due to synthetic diamonds, but customers are beginning to understand that buying a substitute is like lying to yourself. Besides, there are analyses by recognized authorities that show that synthetic diamonds leave a greater carbon footprint on the planet than digging up a natural stone" – says Marcin Marcok.            
When it comes to colored diamonds, the market is on the eve of revolution. By the end of 2020, due to the depletion of deposits, the Australian Argyle mine, which accounts for 90% of the world's output of pink and red diamonds, will be closed. It' s no wonder, therefore, that the prices of pink diamonds have quadrupled over the last decade. What's more, Argyle provides 20 million carats of colorless diamonds every year, that is 1/6 – 1/7 of global annual output.
Worldwide deposits of diamonds are estimated to last for up to several decades. It is inevitable that the market will switch to trading "pre-owned" diamonds. Marcok claims that diamonds are perfect for those thinking about a long-term investment. They are not as susceptible to speculation as gold and silver. As he points out: "diamonds are the surest of everything available today." It is also invaluable to know that we are in possession of a stone that is several billion years old, in possession of something that is unique. "Diamonds have a lot in common with people – there are no two identical stones" – summarizes Marcok.