Once again the world has proven that fancy color diamonds are among the most desired stones and that collectors are willing to pay tens of millions of dollars for them. Their uniqueness and rarity make them a veritable magnet for investors: with the color stones, the return on investment is all but guaranteed and the satisfaction from owning something truly outstanding is immeasurable. Let's take a look at some of these remarkable diamonds – including the Pink Legacy, the highest-graded pink diamond in the world.
On November 13 in 2018 the name of Pink Legacy, the world famous pink diamond, made headlines around the world. That day the stone made its way to the auction for the very first time and was sold for the record-breaking price per 1ct. Weighing a little over 19 ct, it was sold for 50 million dollars, setting the new world record for a sale of a single diamond.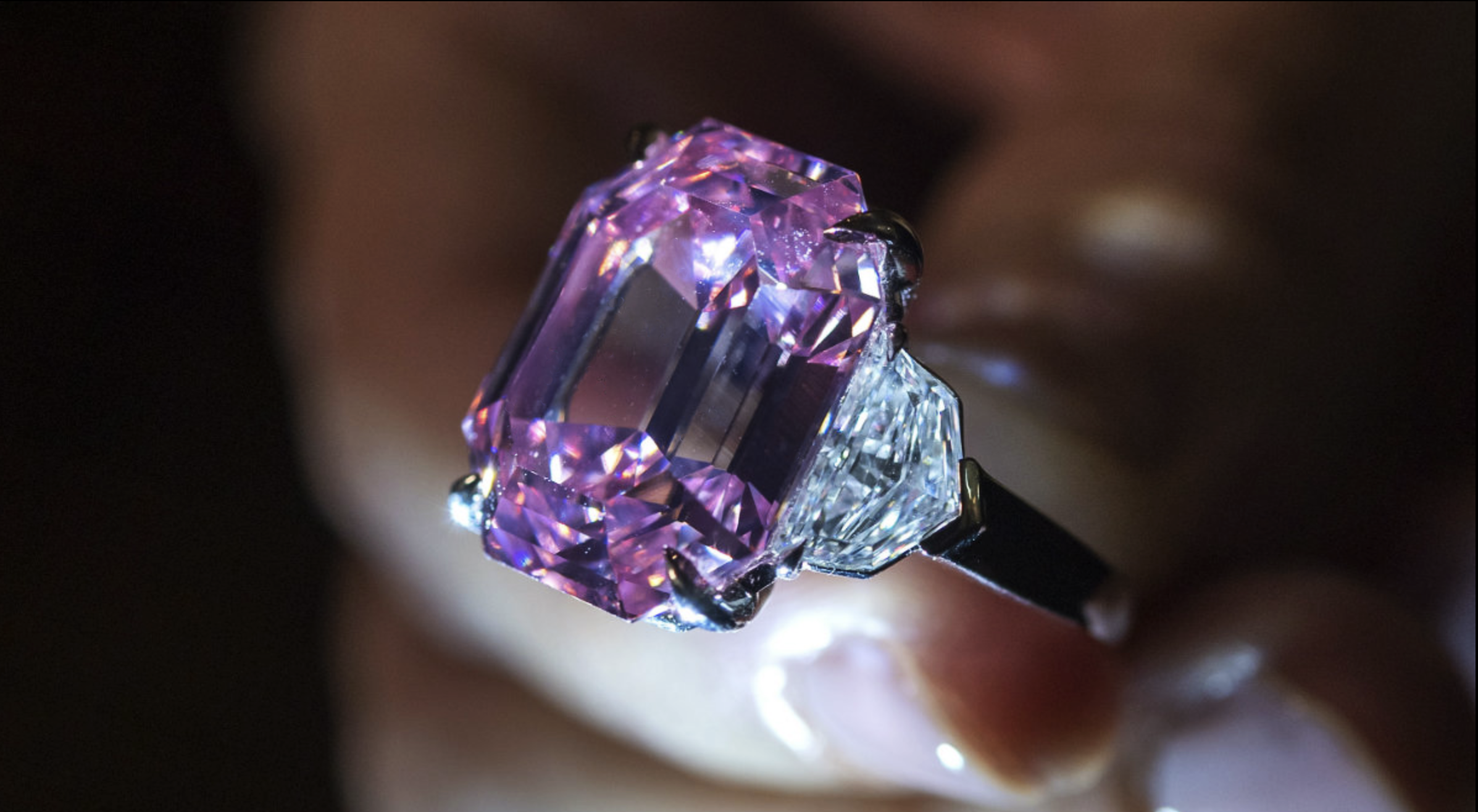 In terms of clarity
Pink Legacy has
no match!
Pink Legacy is the highest-graded pink diamond to have ever been sold at an auction. Originally belonging to the Oppenheimer family, it changed hands and now belongs to one of the most important American jewelry companies – Harry Winston Inc
Both the color and size of Pink Legacy, now set in a ring, are astonishing. Fancy color diamonds of this size are exceedingly rare. Its clarity is truly unbelievable – the diamond is flawless and has a fancy vivid pink hue, one of the most beautiful and rarest of color tones. Why the quality of Pink Legacy is stirring so many emotions? It is because of physical properties of fancy color diamonds: the pressure inside the diamond is very high (that's the reason why a diamond takes on color) and as a result, they usually display a huge amount of occlusions. It is very uncommon for a fancy color diamond to develop in size precisely because of these characteristics. In terms of clarity, Pink Legacy has no match!
Another remarkable stone encased in a breath-taking necklace is a blue diamond sold in May to an anonymous bidder from Asia for 21 million dollars. The heart of this jewelry masterpiece undoubtedly lies within a pear-shaped stone in a lively, fancy vivid blue hue, weighing about 8.01 ct. Above it, there is a fancy intense pink brilliant weighing 1.60 ct. To maintain their distance and to highlight their colors, a 0.35 ct colorless D/VS1 grade diamond has been placed between the two jewels. Experts highlight the fact that the price of the necklace is largely derived from the value of the blue diamond. The value of the rest of the stones, despite the presence of fancy intense pink diamond, was not a huge influence on the overall price.
The jewelry connoisseurs with an eye for color diamonds in leading roles will certainly take notice of a 4,5-million-dollars bracelet decorated with pearls and diamonds. The stones in a bracelet weigh from 0.14 ct to 0.77 ct – and even though the weight of these diamonds is not particularly impressive, their color range makes for quite a spectacle. The hues are dazzling: from red and purple-red, through pink, to green and yellow. Their clarity ranges from VVS2 to I1. What's also quite remarkable about this bracelet is the fact that it has been sold for 1,5 million above the highest estimate.
As the results of recent auctions show, the demand for fancy color diamonds is growing higher and higher, and their prices rise every year. Making an investment, one should remember to choose a reliable and trustworthy partner that offers stones certified by the most influential institutes in the world. We'd like to invite you to explore our offer of fancy color diamonds – they are the proverbial crown jewels of our stock. All diamonds sold by Mart Diamonds are GIA certified. Since 2018, we are also cooperating with Fancy Colour Research Foundation – an association of fancy color diamond companies devoted to supporting the worldwide diamond trade. We're continuously expanding our knowledge and contacts to offer our customers excellent diamonds at the best prices.